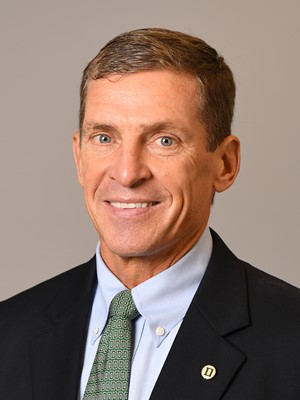 Robert L. Blackman Head Football Coach
Buddy Teevens
Eugene F. (Buddy) Teevens III, who as a player led Dartmouth to the 1978 Ivy League championship and as a coach led Dartmouth football to back-to-back Ivy League titles in 1990 and 1991, returned as the head coach of the Big Green football program in 2005 and won another title in 2015.
Teevens holds the Robert L. Blackman Endowed Coaching Position, named in memory of Bob Blackman, who coached Dartmouth from 1955 to 1970, and created through the gift of Henry M. (Hank) Paulson '68, an outstanding offensive tackle who played for Blackman from 1965-67.
"It is always a treat to have former students of mine back in town. His accomplishments here as a student, an athlete and a coach, combined with his experience nationally and knowledge of the Ivy League, make him the ideal person to lead Dartmouth football."
~ Former Dartmouth President James Wright
In addition to restoring Dartmouth's rich football tradition, Teevens has been an integral force in a series of major improvements to Dartmouth's football facilities, including installation of a FieldTurf surface on Memorial Field for the 2006 season, the opening of the new Floren Varsity House in 2007 that includes training, dressing and meeting facilities, and the addition of lights prior to the 2011 campaign. Dartmouth will also be replacing the West stands and press box after the 2014 season for a more comfortable setting to watch the Big Green.
Teevens succeeded John Lyons at the helm of the Big Green and is the 21st coach in the program's 125-year history. Teevens was Dartmouth's 19th coach during his first tenure.
Highly regarded in football circles, Teevens has been an integral part of the famed Manning Passing Academy since its inception 20 years ago. He serves as an associate director of the camp, overseeing all aspects of the on-field operation and coaching staff. He also has been on panels for "Practice Like Pros" to extol the virtues of cutting down on full-contact practices by focusing on technique, which in turn limits injuries suffered in practice and in games.
Born October 1, 1956, Teevens earned an A.B. degree in history from Dartmouth in 1979. An honorable mention All-America quarterback in 1978, he led the Big Green to the Ivy title that year. He was named the Ivy League and ECAC Player of the Year and played in the Blue-Gray Classic. Co-captain of the 1978 team (6-3, 6-1 in Ivy games), Teevens was the squad's most valuable player. He also lettered in hockey, helping Dartmouth to a third-place finish at the 1979 NCAA championship. He was voted the Alfred W. Watson Trophy as Dartmouth's outstanding athlete.
The name Teevens is intertwined through Dartmouth athletic history. Buddy's father, the late Eugene F. Teevens II '52, was a hockey letterwinner. His younger brother, Shaun '82, was a two-sport athlete in football and hockey and also a recipient of the Watson Trophy. A sister, Moira '87, captained the women's cross country and track teams and earned All-Ivy and All-East recognition as a runner.
A native of Pembroke, Massachusetts, Teevens and his wife, Kirsten, have two children: Lindsay lives in Lebanon, New Hampshire, with her husband Matt, daughter Caroline and son Jack, while Buddy Jr. lives in Hanover with his wife McKeanna, son Eugene V and daughter Leila.